About a few weeks ago, the nation was rocked by the shocking and shameful incident in Greater Noida – the physical assault on Nigerians not just at one but multiple locations. These were simply hate crimes based on the colour of skin, nothing more.
Dark coloured skin invites racism in India. That is a truth that everyone is aware of but most shy away from discussing, although a few do try to shed light on, in the hope that the future will be better. One example of the latter is the graphic novel 'The Horizon Is An Imaginary Line: A Refugee Story' released on January 12, 2017.
Published by Khoj International Artists Association, the book is a semi-fictional, illustrated account of a young Somali woman's encounters as a refugee in India. It was conceptualised and written by Bani Gill and Radha Mahendru, with illustrations by Pia Alize Hazarika. Gill is pursuing a PhD on migration and refugee flows from Africa to India and Mahendru monitors Khoj's community-based art projects in Khirkee, where many Africans live.
Many refugees and immigrants in Delhi gather at Khoj to share their daily problems and hurdles as a refugee. And indeed the book is largely drawn from a series of storytelling workshops with Somali refugees at Khoj. The contributors – Fatima Hasan, Mhd Koofe and Hafez – themselves are a part of the Khirkee Community, where the book was launched.
In the book, the 16-year-old Somali refugee – Maryam Jama Mohamed – and her family arrive in New Delhi after escaping the violence in Somalia's capital, Mogadishu.
What awaits them in the city are Indians who can't look past her skin colour.
Even though she grows up to be a Hindi-speaking, Bollywood-grooving, adult (like most of the members of the Khirkee Community), she is subjected to different degrees of verbal abuse and always harbours a sense of alienation as she strives to build a life for herself in India.
The book hopes to bring awareness to the plight of refugees in the nation, striking a balance between statistical data and personal accounts of emotional struggles, and complications living with an ambiguous legal status.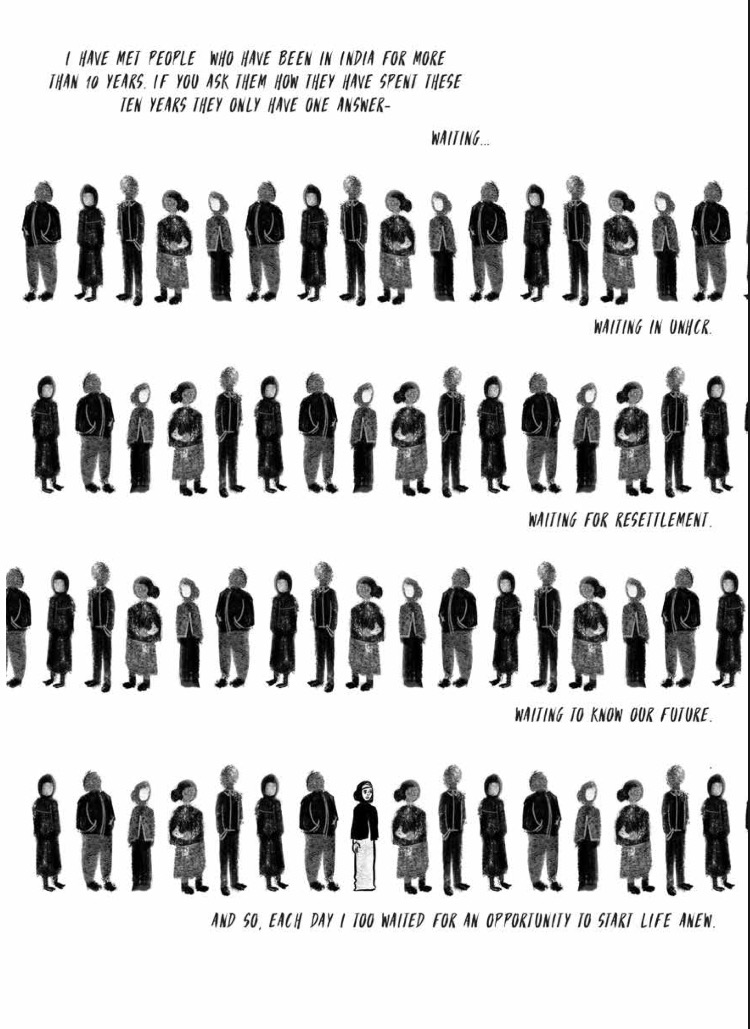 Disturbing and saddening as the book panels might be, this is an opportunity to look past our natural prejudice as Indians, and learn to open our hearts and minds to embrace humanity, irrespective of skin colour.
You can purchase the book at the KHOJ office in Khirkee or get in touch with them here.
Written by Ankitaa Gohain Dalmia
Featured image source: Khoj Studios