Even when kindles and ebooks were ubiquitous, bookworms were still in denial about the decline of paperbacks and hardbound books. And, they were right. The digital phenomenon just resulted in a renewed appreciation for the physical; a 'must-pick-it-up', a 'must photograph', or a 'must buy' experience.
Book covers play a large role in this. A cleverly crafted cover can convey the nature of your book, whisper hints without giving the plot away, and will motivate readers into picking up the book and reading it. So, we went looking for some of our favourite book covers, and then reached out to the talented people who made them to learn more.
Ranging from horror to short story collection and thrillers, here are some of the designers behind the beautiful covers of Indian books.
Nobody Killed Her by Sabyn Javeri
Cover Design – Saurabh Garge
'Nobody Killed Her' is a tale of intense friendship between two ambitious women that unfolds in a country steeped in fanaticism and patriarchy. The book cover was designed by Saurabh Garge for HarperCollins India.
Garge aims to create memorable experiences though his designs. In designing 'Nobody Killed Her', he explains that the author wanted to leave some breadcrumbs on the cover for her readers to connect the dots while reading. Accordingly, he decided to represent the two female protagonists in the book, who shares a strong physical resemblance, against an ominous, gritty backdrop.
"The most challenging part was finding an image of a woman wearing a Hijab for the cover," Garge comments. "So we did a photoshoot for the lead character in-house. And then, we used the photographs upside-down. At a glance, it would appear as a real image and its reflection, but when examined closely, the two distinctly different hijab colours establishes them as two different characters."
He adds, "We also coloured the edges of the book with a blood red colour, which made it exquisite, collectible, and particularly ominous."
The Horror Omnibus by Ruskin Bond
Cover Design – Chaitanya Limaye
Written by Ruskin Bond, 'The Horror Omnibus' is a collection of some of the spookiest short stories that will send a chill down your spine. The paperback was published by Rupa Publications and its cover was designed by Chaitanya Limaye.
Limaye is an illustrator and animator. He enjoys bringing stories to life, and explains that the cover for 'Horror Omnibus' was illustrated entirely keeping in mind the sense of fear it should evoke for the viewer. "I started thinking of things that might be old and forgotten, That's when an image of the attic of an old and creaky wooden house came to mind," he says.
To further inspire a feeling of desolation, on the back cover, Limaye used the images of an empty wooden rocking chair covered with cobwebs, and a white cloth with a mysterious green mist surrounding it. "This is to add to the eeriness" he says.
Siddhartha by Herman Hesse
Cover Design – Chaaya Prabhat
'Siddhartha' by Herman Hesse tells the tale of a young man who leaves behind a life of privilege to seek spiritual fulfilment, during the time of Gautama Buddha. Its strangely calming cover was designed by Chaaya Prabhat for Amaryllis Publishing.
Chaaya Prabhat's work usually involves a combination of illustration, design and hand-lettering.
Her process of designing begins with trying to visualise the themes and recurring motifs in the book. "Combined with the river, a common motif in the book, I created a subtle silhouette of Buddha to represent his teaching which recurs in the book," she explains.
The Open-Winged Scorpion and Other Stories, Abul Bashar, translated by Epsita Halder
Cover Design – Sunandini Banerjee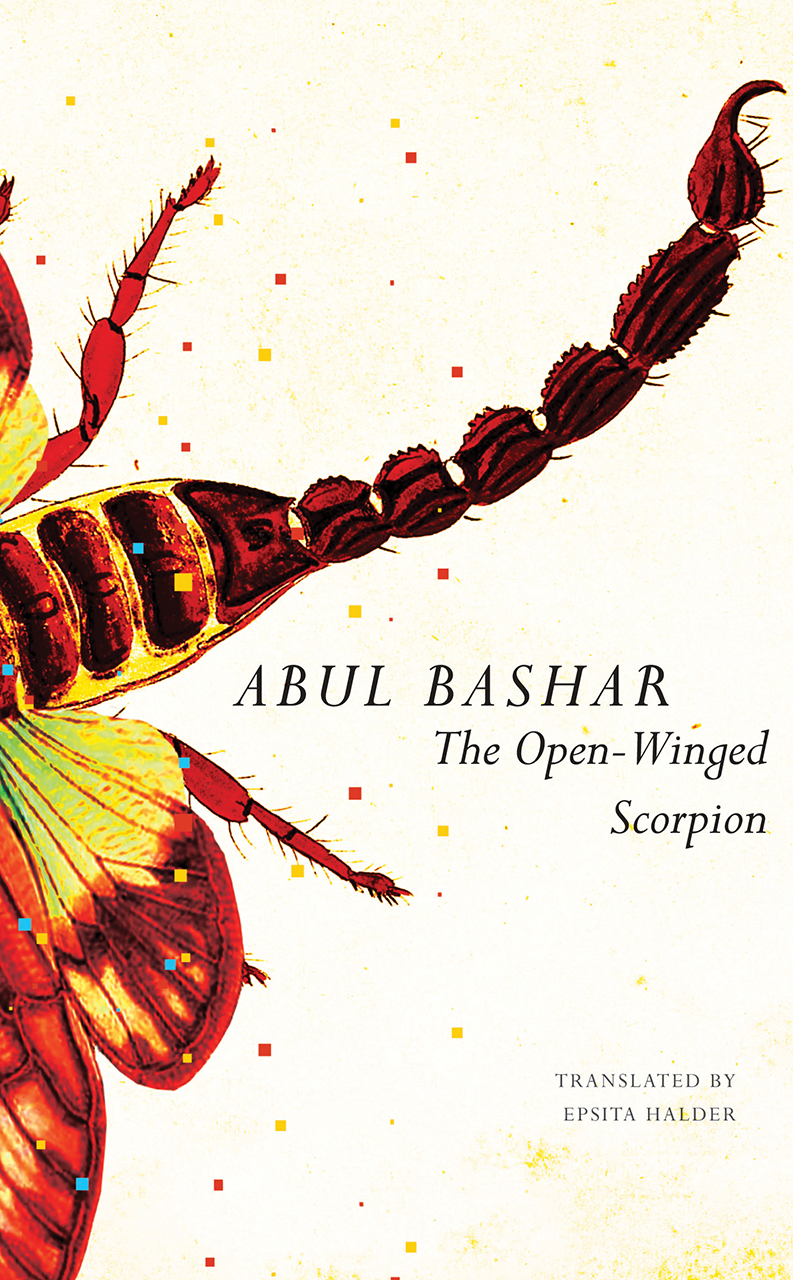 Written by Abul Bashar, "The Open-Winged Scorpion and Other Stories' is a  collection of short stories about the precarious lives of marginal Muslim communities in West Bengal.
Cover designer, Sunandini Banerjee, is a senior editor and graphic designer at Seagull Books. In an interview with Scroll.in, Banejee explains her decision to create an open-winged scorpion for the cover. She comments, "I wanted to look for something illustrative rather than photographic in order to gently underscore its unreal imagined existence."
"I referred to a series of insect illustrations, done by colonial entomologists. Then, found a butterfly whose wings seemed open to some photo-manipulation, so I cut the wings off and put them on the scorpion", she explains.  In an attempt to create a look that was slightly unnatural and exaggerated, she tweaked the colours, and in the end, the wings appeared as though they had been on the scorpion all along.
"The rest of the scorpion will appear across the spine and the back cover. So finally, when you're reading the book, someone watching you will get to see the open-winged scorpion" Banerjee points out.
Urnabhih by Sumedha V. Ojha
Cover Design – Reshu Singh
Urnabhih tells the tale of a young girl who sets out to avenge her sister's death only to encounter a life changing experience.
Illustrator Reshu Singh designed the cover for Roli Books Publishing and explains on her Behance account that she designed the cover with the plot elements in mind.
"The protagonist, Misrakesi, is drawn with an air of mystery, hinting her double life as a dancer and spy. A majestic peacock at the back cover is symbolic of the Mauryan kingdom  where the story is set," Singh writes. "Plot elements from the cover are doubled as spot illustrations inside the book."
This new influx of creativity in covers have made books even more sought after, with enthusiasts buying multiple copies of a book because they saw an edition that was prettier than theirs (we know we're guilty of this!).
Have you ever picked up a book because you liked its cover?
If yes, let us know in the comments below!