If you haven't heard of Jogi art, chances are you haven't been paying attention. Striking, unique and unusual are just a few of the adjectives used to describe this art form created by Rajasthan-minstrels-turned-artists. Like all great stories, the story of how Jogi art came to be started with a chance encounter; now, it's powerful enough to run on its own steam entirely.
The pioneers of this artform, Ganesh Jogi, the namesake of this artistic form, and his wife Teju Behan, were originally traditional singer-storytellers, singing devotional hymns and ballads in return for alms in their small village in Rajasthan. Due to drought, they had to move to the state of Gujarat. There, bereft of a livelihood, they had to resort to hard labour to eke out a living.
It was then that Haku Shah, an eminent artist and cultural anthropologist chanced upon Ganesh Jogi and was enraptured by his voice. Putting a pen in Jogi's hands, he encouraged him to draw his songs. Setting his ball-point pen to paper, Jogi began to illustrate scenes from his daily life, religious stories and personal histories through free flowing lines, filled with uniform dots and precise individual patterns.
Teju also blossomed into an accomplished artist with her own personal flair. She creates her own paintbrushes with bamboo twigs and cotton rags, and paints a more colourful landscape, with a vision for women's rights and equality. Their children have also emerged as successful Jogi artists.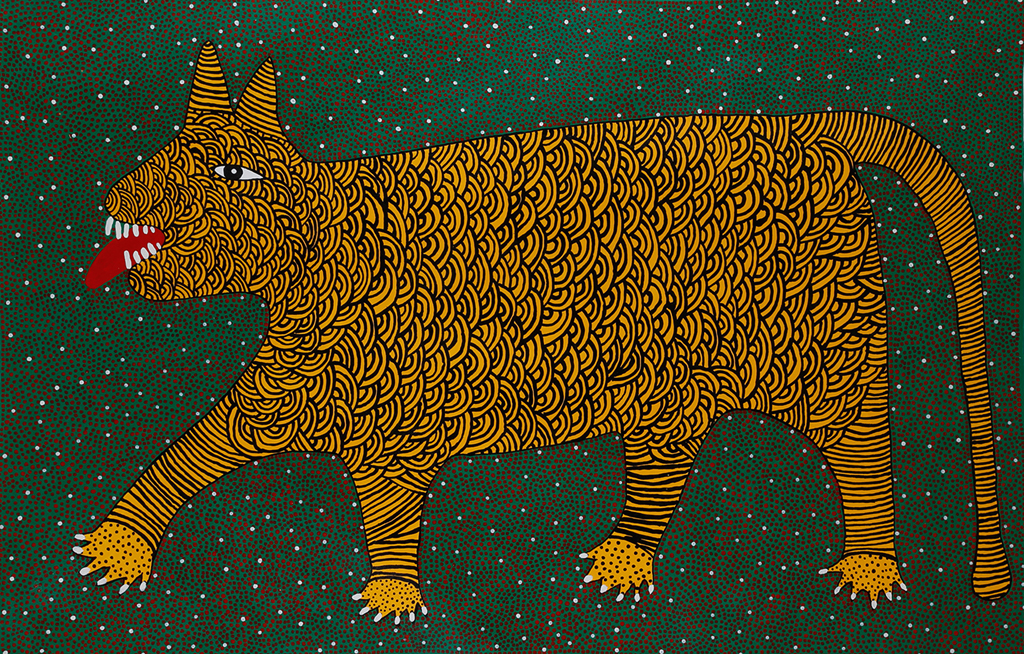 Unsurprisingly, this unique art form has garnered recognition around the world and at home. Their art was recently featured as part of the 'Living Arts of Rajasthan' initiative, and displayed on billboards, bus stops, and buses in Jaipur. The owner of the Must Art Gallery, Tulika Kedia, has also written a book about the family titled 'Contemporary Expressions – Art of the Jogi family'.
Jogi art is a true visual delight, narrating stories about everything from village life to issues like environmentalism. Here's hoping it peaks curiosity about the other vast and rich art genres existing in the different regions of the country.
Click here for a glimpse of the 'Living Arts of Rajasthan'.
Featured image source: The Hindu
Written by Ishrat Chowdury